Plastic / Vinyl / Laminated

Trade Show Graphics / Venue Posters / Instructional Signs / Yard Signs
PLASTIC BOOKMARKS AND MEMORIAL CARDS

ILC manufactures high quality plastic and laminated, 
Inspirational Bookmarks and Memorial Cards. 
There are two standard bookmark sizes: 
Pocket size - 3" x 4.5"
Bookmark size - 3" x 8.5"

Bookmarks are also available in other sizes. Please call or e-mail
ILC for details.
			
Inspirational Bookmarks

Inspirational Bookmarks are pre-printed on the front to 
allow for an obituary notice to be placed on the back. 
The bookmark has a laminating film attached to both 
sides. After the obituary notice is placed on back it is 
laminated closed.

Choose From Nine Stock Bookmarks.

Size and Code
Size and Code
STYLE
POCKET
BOOKMARK
23rd Psalm (A)
23rd Psalm (B)
Beatitudes
Footprints
Life's Weaving
Lord's Prayer
St. Francis
Time
Flower (Custom)
6021
6022
6023
6024
6025
6026
6028
6029
6030
8021
8022
8023
8024
8025
8026
8028
8029
8030
Personalized Memorial Bookmarks

Optional laminating.
With personalized graphics and custom sizes.
Can be ordered in small quantities, (10 and up).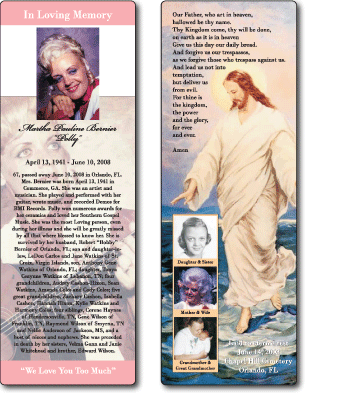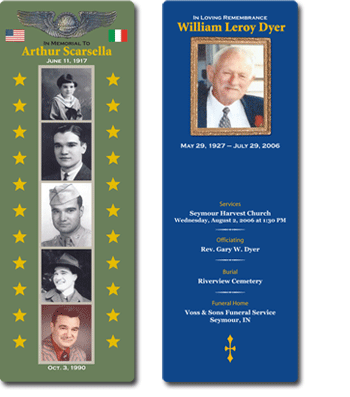 To The Families Of Those Pictured

Our deepest condolences and our thanks for
allowing these bookmarks to be displayed.

Thanks to the Bernier Family allowing ILC display this 
Memorial Bookmark with art supplied by Tony Watkins.

Custom Bookmarks

 With informational graphics and custom sizes.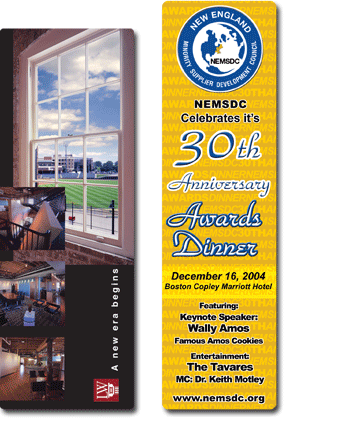 ILC is an industry leader specializing in manufacturing of printed and unprinted plastic products.
© by International Laminating Corporation. All material on this site is copyrighted.
No part of this site may be duplicated without prior written permission from International Laminating Corporation.